We've Reviewed Your Local Business Listings and Created a Quick Customized Video Just For You!
Overall Findings
25% local rating is LOW. Should be 80% or higher
Business listed 3 ways, which confuses directories. Major Restaurant, Major's Restaurant and Major Restaurant Corp. Needs to be consistent.
Showing some good reviews with some bad. More positive reviews will boost your listings higher and prompt more people to come.
Only 2 Yelp reviews in 2018 and 3 in 2017. Should be getting several a month!
Need to use pictures on more directories.
Schedule a free consultation. If you have questions about the Local Marketing Review we prepared for you, please click here to schedule an appointment to discuss it. Or call me direct (630) 862-7049
Halloween
Black Friday
Christmas
Do You Have Enough Customers?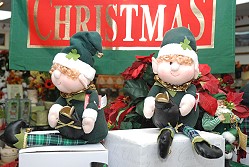 Do you need more local foot traffic? Do you own a retail shop, restaurant, optometry office, car repair shop or similar local business?
You almost certainly to need to improve your local marketing efforts. (See the video above.)
The good news is you may be able to improve your local marketing yourself for free or get expert Done For You services affordably!
Your Local Business Advantage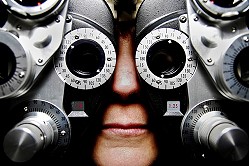 Today, more than 50% of products or services are sold beginning with an online search, and most of those come from mobile devices, like smartphones and tablets.
Many of these prospects are in their car looking for a product or standing in their office looking for a service.
Smart operators get an advantage by being easily found online. And we're not just talking about their website. In fact, you don't even need a website to get an advantage!
The Advantage comes from…
being listed in local directories, including Google My Business, Yelp and Manta. These are called "citations" and they can also help your search engine rankings if you have a website.
having consistent and complete information in those directories. Using a specific format for your business Name, Address and Phone. (NAP)
using pictures and possibly videos in your listings. The videos can be created using pictures (and don't need to include you if you're shy!)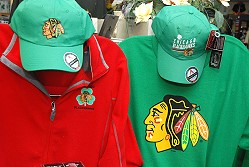 Best of all, an effective Local Marketing Plan can be set up once and benefit you for years to come, including top sales seasons like Christmas, New Years, Valentines Day, Mother's Day, Father's Day, Graduations, Confirmations, Back to School, Halloween, Thanksgiving and 365 days of birthdays and anniversaries!
Be found when they are looking for your product or service!
There are best practices for optimizing businesses for local marketing.
So, you may be asking…
How does my business rank locally? We gave you a free report above, but there is a free tool you can use to confirm what we found for you. It's called MOZ Local.
Click Check My Listing -> Insert Your Business Name -> Enter Zip Code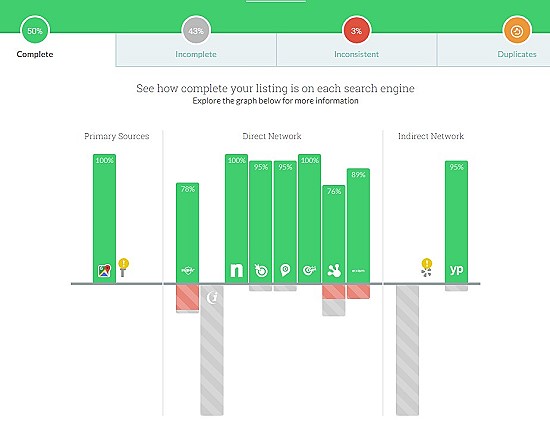 This example shows a business with only 50% of their local listings Complete, 43% Incomplete and 3% Inconsistent. The bar graph shows metrics on specific sites and directories.
This business would definitely benefit from more complete and accurate information listed in directories and review sites.
Customized Local Marketing Package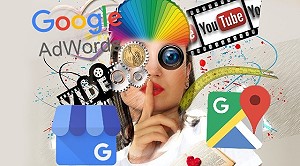 We will further evaluate your local marketing presence looking for consistency and completeness of your information and branding across more than a dozen properties, including Google My Business, Google+,
We include the MOZ Local Package in our comprehensive Local Marketing Plan and use similar tools to evaluate client's Google My Business, Yelp and other directory listings.
What We Will Do
We will give you a comprehensive report on your business's position in the local market; including which directory listings have been claimed. (We will want to verify YOUR ownership of them with you.)
We will post or distribute appropriate content we receive from you, including any media that you may have available.
Make recommendations about how to deal with online reviews, both good and bad.
Send materials you can use to get more citations from customers within guidelines.
To prove the work we have completed, we will supply before and after screenshots of your online listings.
In most instances, we will use your email address for contacts with MOZ or any directory listings, so you don't miss anything.
What We Need From You
As many suitable photos or videos as you have. You should include your location and images related to your products or services. Also, pictures of you or your staff or awards you have won.
A description of your ideal customers.
A description of your service area.
An article on what makes you unique.
A brief history of your company, founder(s), location and products & services.
A list of your primary competitors.
Quick Turnaround
Typically, we can complete our discovery, claim your business listings and optimize your online presence within 3 business days. You will begin enjoying benefits almost immediately!
It can take up to 5 days for the directories to approve your listings and show current (or revised) results.
How do we get started?
Click here to schedule a call to discuss any remaining questions. If you decide to improve your local marketing presence, we will discuss the specific products, services and advantages your business offers.
We will need complete and accurate address, phone, website and email information and at least 10 photos of your business, logo, products and key customer-facing employees.
What This is NOT
We will not change any content on your website.
This is not Search Engine Optimization.
Video editing is not included, but it is available ala carte.
If we think you could benefit from a re-write or SEO, we'll include it in our report.