By Kurt Scholle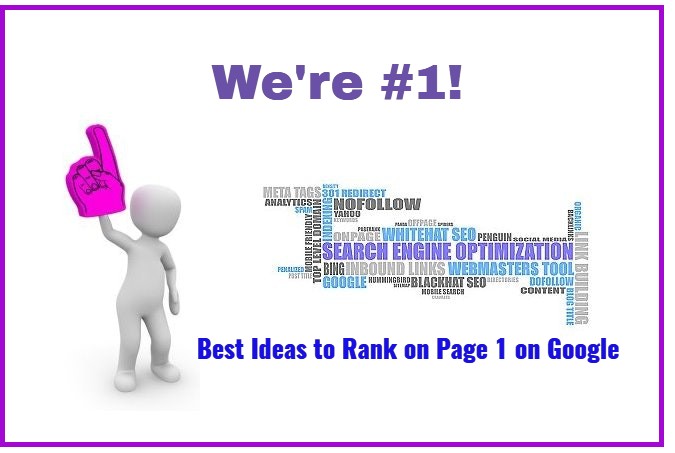 Characteristics of content that ranks #1 on Google…
I'm working on a client site. The guy wants to rank his blog posts higher in search engines. I thought you might like to know how to rank number one on Google (and Bing) too. It's not guaranteed, but there are some best practices that give you a chance.
Before we get to how to rank #1 for your content, we must address this question:
"What keywords do we want to rank for?"
You may be able to guess SOME of your keywords, but not all of them. I had a client in the landscaping business who once said, "I've been doing this 20 years, I think I know what's important."
Yes, but what you think is important and what your client thinks may be different things.
You want to know exactly how many times each keyword is used every month. Most keyword tools will give you some idea of how competitive they are, which may include a score, with 1-30 being easiest and 70-90 being nearly impossible to rank for. Some tools list how many other websites are ranking for that particular keyword.
How to Rank Number One on Google? Think Long-Tail Keywords
We've gotten more sophisticated as searchers. Over a third of Google search queries are 4+ words long. Longer search queries are narrower search queries, and narrower search queries are less competitive. Queries that begin with "How to…" are especially effective.
According to Internet Live Stats, somewhere between 16% and 20% of daily searches on Google are new—they've never been searched before. I wouldn't try and target them, just be aware that searchers are getting fore and more creative.
There are 3 different types of search queries. Navigational, Informational and Transactional,
Click To Tweet
What are the most popular types of search queries?
Navigational Search Queries, Informational Search Queries and Transactional Search Queries. To get your content to rank in search engines, you need to know what TYPE of information they are looking for and how does your solution serve those queries? For most entrepreneurs, Informational and Transactional search queries will be most common.

What Is a Navigational Search Query?
A navigational query is a search query entered by people looking for a particular website. For example, a user might enter "youtube" or "facebook" into a search bar rather than entering the specific domain or URL
What Is an Informational Search Query?
Wikipedia defines informational search queries as "Queries that cover a broad topic (e.g., Denver or Tools) for which there may be thousands of relevant results." Informational search queries are people looking for information closer to the top of a sales funnel that near the bottom. They are probably not looking for a specific site, nor have they decided to purchase. They just looking for more information. In this case, they may be looking for coffee makers with certain attributes, such as capacity or finish.
Blog content can be very effective at this stage. "How to" videos or guides are great content for informational search queries. This is where you "pre-frame" your offer(s).

What Is a Transactional Search Query?
A transactional search query indicates an intent to buy. They've done their research and are ready to make a purchase. Transactional search queries may include exact brand and product names (like "Bunn Speed Brew Elite") or be generic (like "10 cup coffee makers"). These search queries might include terms like "buy," or "order." Buyers may also use geographic references like such as "Denver wine shop" or a suffix like "near me." If you're selling locally, you need to use GEOs in your content.

What do they want?
If you want to know how to rank number on on Google or Bing it is key to understand what your Target Personas (some call the Client Avatars) are looking for and how they write their query.
There is a difference between someone searching for "landscaping in Naperville" and "landscaping design in Naperville" or simply "lawn maintenance."
Consider buyer's intent. Someone searching on "Grand Rapids MI real estate" may have different needs; from wanting to buy a home or apartment complex to wondering what their home is worth. Someone who searches for "3 BR brick ranch in Kalamazoo" is probably a buyer, but could be a seller looking at comparable listings.
Use the same vernacular as your prospect. They often begin a search with a question, "What is the best…" "Why…" or "How do I…"  Maybe they ask this way, "Best pizza/plumber/eye doctor/insurance agent/restaurant in Lombard" if they're looking for local products or services.   Queries are similar when location is not important.

How do I know what keywords to target?
There are lots of ways to find out what people are searching for and that's critical information if you want to know how to rank number one on Google. I will go into more detail in a future article, but one free tool you might want to get familiar with is the Google Keyword Planner.
Rank Content Number #1: Best Ideas of How to Rank Number One on Google
There are some common characteristics of sites that rank high in search engines for their coveted keywords.
1-Short URLs: URLs ranking #1 average 50 characters. URLs can be pretty long, but shorter is usually better than longer. People used to stuff URLs with all kinds of keywords (as many as 1,000 or more characters), but that no longer works. If your URL is 80-100 characters (or more), consider shortening it.
Technically a URL can be as many as 65,536 characters long. As stated above, #1 content averages 50 well-crafted, keyword-rich characters! Another reason to use short URLs is that long URLs can get truncated in email links and with some content management systems and social media sites.
Make sure you use the Focus Keyword in the URL and usually at the beginning, but make it look natural. Using the Focus Keyword in the URL helps at least 2 ways.
When someone sees a link to your page, they immediately understand what the page is about. This link shows up in Search Engine Results Pages (SERPs), in email links or on Social Media.
When people copy or paste your URL and share it online or in an email, it often becomes the anchor text of the hyperlink. A valuable signal to someone considering whether or not to click the link. (If someone changes the anchor text, you may lose this benefit, but that's OK)
Separate words in URLs using a hyphen between them. Domain.com/tastiest-pork-rinds-on-the-planet vs. Domain.com/tastiestporkrindsontheplanet.
Most people make URLs lower-case and some web servers require them.
2-Long Form: Top-rated articles average 2,416 words. Many experts recommend writing 800-1,200 word blog posts, but to rank #1, articles need to be 2-3x as long. In fact, the average length of words that rank #10 is 2,032, according to serpIQ and other sources! So you may want to write some posts of 2,000 words or more.
Trivia: Position #10 gets more clicks than 8  & 9 COMBINED! Apparently because nobody wants to click to the next page. Position #7 is better than #10.
The Yoast SEO plugin gives you a passing grade if your content exceeds 300 words, but that just isn't enough to compete and rank your content on page 1.
Noted blogging authority Neil Patel likes writing 4,000 word articles. On the other hand famed blogger Chris Brogan sometimes recommends frequent posts of just 400-500 words, and Seth Godin often writes shorter posts, but they have a strong following – a big tribe – and I'm not sure that advice will benefit those of us with fewer followers.
Don't be a second-grader!
Remember how we'd sometimes embellish our homework with nonsense to meet teacher's requirement that it be 2 or 3 pages long?  (Well, I did.)
Don't pack your articles with fluff to try and get to 2,000 words. DELIVER the goods. Try and change someone's life!
One way to look at it is to think of paring down a 5,000 word article rather than inflating a 500 word article.

3-Simple to Read. #1 content scores an average of 76% on Flesch Readability Score or Flesch Readability Ease Test. (The Yoast SEO Plugin on WordPress calculates your score if you use it.)
Experts tell us that the public absorbs writing that is understandable to people aged 13-15 years old. The higher the score, the more readable the content.
Frankly, we don't really know how much readability factors into Google's organic search algorithm, but better readability should help site conversions.
If your content scores 69% or lower, it means the content should be simplified. The Yoast plugin will recommend that you reduce the number of big words you use and the length of sentences and paragraphs.
Google estimates that 33% of websites have content that is 'Basic.' 59% of websites have 'Intermediate' content. 8% are considered Advanced, and some websites probably need to be written at an advanced level.
You might also test your content readability with the Readability Test Tool.
4-Chunked Content: 78% of #1 ranked content includes a bullet list, according to one study. People make an evaluation of a website in 5-8 seconds, which means they don't initially read web pages, they scan them.
Google may penalize sites where visitors hit the back button soon after landing on a page, which affects the amount of time someone spends on a site and how many pages they read, so we advise clients to have a strong keyword-rich headline with a benefit if possible.
Short paragraphs, sub-headlines, bolded or italicized text, bullet lists and images contribute to the scan that hopefully leads to people engaging the article more by reading it. Consider laying out your pages like this…
Use sentences of no more than 15-18 words and make paragraphs short, even just one or two sentences.
5-Links! Inbound links to a site, especially from Authority Sites is a key to ranking success. Think of links as votes for your content. Not only the number of links, but the QUALITY of those links.
Link quality may come in the form of the Google PageRank of the site linking to you. PageRank is now an internal metric for Google. You usedd to be able to see the "PR" of a page.
SEOmoz helps you determine the Domain Authority or Page Authority (their version of PageRank) of those links.
Links to your site from sites with higher traffic will outperform links to your site from low-traffic sites.
Links from directories or local citation sites are thought to help search ranking. A link from a chamber of commerce, YELP or a directory of sites in your area or niche will be more beneficial than a link from KurtsFavoritePorkRinds.com.
You can check how many inbound links are going to your website OR your competitor's website.
Open Site Explorer will give you a limited number of free reports per day. Moz Pro is a complete SEO toolset with more functionality for Open Site Explorer.
Pro Tip: Some SEOs will make a list of all the inbound links going to a competitor's website and try and replicate them.
Links from Government or Educational sites are often better than links from other Top Level Domains, like .com, .org or .biz. Links from TLDs like .edu and .gov can be hard to acquire, but very beneficial!
Internal or "on-site" links can provide 'link-juice' to your articles and help improve keyword rank. Another benefit is that visitors might stay on your site longer if you link to content related to their interest. Duration and Pages Per Visit are signals that the search engines use in their algorithms.
We like to keep a spreadsheet of how many inbound internal links come from our own site. I would always try and have at least one. We also track which internal pages we link to from each post.
Pro Tip: Sometimes all it takes to get an article from page 2 of the SERPs to page 1 are a few new links; internal or external. Identifying pages that rank on page 2 or even page 3 can be easier to improve than a brand new post.
Ways to Get Quality Links to Your Site
Linking from article sites like ArticlesBase or eZineArticles used to be very effective in improving search rank, but Google thought that practice was spammy and devalued those links a couple of years ago.
It's not clear if other search engines did the same thing to the extent that Google has, but inbound links, done the right way, need to look natural and come from a variety of sources, so posting at least a few articles on article directories may still be effective, if for no other reason than visitors to those sites are looking for content and may find you as a result.
I have a client with a new site and have recommended that she write an article on each of her top 3 service offerings and post to an article directory. It may help get the site indexed, especially if we link to internal pages, rather than the Home page.
Link from other "Authority Sites"
The article sites have been devalued by Google, so those links are not as effective as they once were. Today, we're seeing more people posting content on Medium and LinkedIn.
We're also going to link a slide deck for all three services from Slideshare. You could also do the same with YouTube videos that link to each separate page on your website.
Blog commenting with a link to your site, and even better, guest-posting are still effective.
Social media links can help traffic find your site, rank content number 1 and be a signal to Google, Bing and Yahoo!
It's important to make sure your links don't break. Google may penalize you for that. If you want to know how to be number one on Google, you should keep track of external links, as well.
More Ideas on How to Rank Number One on Google
7-Images: #1 ranked content had an average of 9 images per page. Consider using an image every 75-100 words. Try and get your Focus Keyword(s) in the filenames, ALT-tags and image descriptions. This is one way to optimized for more than 1 keyword per page, but make sure all keywords are related. Don't try to match "best pork rinds" with something like "Mama June" even though it might seem like a good match.
Optimizing images is one of the most effective ways to optimize a page for Google and other search engines. You should use your Focus Keyword in the file name for the image. If we wanted to rank for "best pork rinds," we'd want to use those 3 words in the file name, ALT-tags and Description of the image. You might include them in an image caption too!
Images help tell your story as much as anything. They can be consumed in the first 5-8 seconds that new visitors use to evaluate your site.
Also, keep in mind that interactive content, including animations and videos convert 2x better than static content. Quicksprout analyzed 41 blogs to see what type of images get shared most often. Animated graphics were #1. Royalty-free images were last.
8-Use Tall Images on Pinterest: #1 content averages 12,000 pins. Pinterest has changed their optimal pin sizes over the years. At one time they recommended 736 x 1104 pixels. In 2018, Pinterest recommended you create Pins at 600 x 900 pixel size.
Pinterest now says 1000 x 1500 pixels is optimal – or any 2:3 aspect ratio. Infographics make it easier for outside sites to link to yours, which increases the number of inbound links to your content.
The other benefit of other sites or Pinterest linking to your content is that people may discover you in those places. We like to identify all target personas, what their needs are and where they hang out.  Pinterest is one of the larger communities where target audiences gather, so it (or LinkedIn, YouTube, etc) may help build brand awareness.
I hear some chatter that Pinterest may not be quite as effective as it once was, but it still helps in terms of inbound links and audience introduction.
9-Outlinks. Sites ranking # 1 link out to other sites 50% more often than sites ranking #10. Some people are afraid that visitors will leave the site, never to return, but linking out to appropriate content is respected by 'The G." which considers them to be trust signals. You can set the link to open a new browser window and never really leave your site.
Outbound links also support or validate your content. Referencing a news article, government or educational site, survey or even a competitor's blog post contributes to getting your content ranked #1.
Speaking of competitors, you should keep track of what they're writing and even sharing it with your tribe. Your competitor may even return the favor!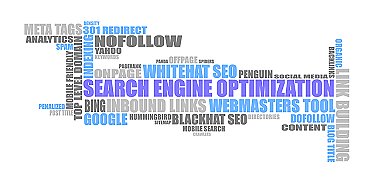 10-Use Your Focus Keyword Several Times. We've had clients who have written 100 or more blog posts but can't rank in the top 30 on Google. Many times we see that they are not using the Focus Keyword in ANY page content! The Yoast SEO Plugin will make recommendations if your don't use the keyword in your URL, Page Title, H1 or H2 tags, image ALT-tags or Meta Description. It will advise you that keyword density is low and that you should use it more often.
The free version of Yoast's plugin will allow you to optimize for one Focus Keyword, and that's a good practice; optimizing for only one keyword or phrase per page. But you can try and optimize for very similar keywords or keywords that include the primary Focus Keyword, even without using the premium Yoast SEO plugin. Use the secondary keyword in…
Sub-headings (You should only use one H1 tag per page, but you can use as many of the other H-tags as you like)
Image ALT-tags
Anchor text links from other pages
Page content
If your Focus Keyword was 'best pork rinds,' you could also try and optimize for terms such as 'best pork rinds with beer,' 'best hot sauce for pork rinds,' or 'how can I teach my wife to love pork rinds like I do.'
11-Page Load Speed is more important than you might think. Google says so!
Page loading, especially on mobile devices, can be affected by hosting on a shared server with 1,000 (or thousands) of other sites. Google and Bing both use it as a ranking factor. The speed of the server is a factor and most people don't think of this when they sign up with a consumer hosting company.
Cheap hosting is rarely the best hosting option if you're serious about business. Google has a tool to check your site's load times. Some prefer Pingdom. I would try both.
We've hosted with many website hosts; some good and some downright lousy. Our current favorite is LiquidWeb. (Aff link) They're priced right and have great support. They'll usually move your site for free! Easy peasy!
12-#1 ranked content had an average font size of 15.8 pixels. Who knew? A larger font than normal helps readability, especially with older visitors, which may impact Google's algorithm. I'm going to change font sizes to at least 14 on sites I own or manage.
13-HTTPS has now become a ranking signal, according to new research reported by Search Engine Watch. 32% of sites ranking on page 1 of Google are using Secure Socket Layer. Consider adding an SSL certificate to your site today! It's easy and inexpensive. Contact your hosting company for more.
14-Work on improving content that ranks on Google, just not page 1. If you are ranking on page 2, 3, 4 or 5 of Google, use some of the suggestions above to make it better! If you're stuck for ideas, look at the pages that are ranking higher than yours. What can you add to make your better than theirs?
More How to Rank Number One on Google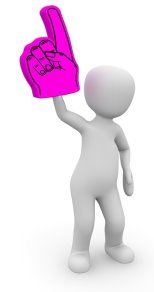 Here are 3 Keys on How Rank Number One on Google
You need a very clear understanding of who your Target Personas are. You almost always have more than one. Write down what you know about them, what their needs are, where they hang out and how much they know about the solution they are looking for. Make note of the words they use to describe their problem.
Create helpful content that is better than your competitor's. It can be words, images, videos, or downloadable files. What do they expect? What will make you stand apart?
On-Page SEO. Your Focus Keyword should be in the URL of your post, the H1 headline, at least one sub-headline, your META description, the file name of an image on the page, the ALT tag of an image and in the anchor text of a link to the page from another page on your site of from another website. We like to create PINS with links to blog content. You might also post a short video on YouTube with a link back to your post.
Conclusion: Well-written content is probably the most important element of a successful blog post and word count matters of you want to know how to rank number one on Google! Pillar posts of 2,000 words or more are critical
Having a few images seems to be a key ranking factor and optimizing images for your Focus Keyword and maybe a couple of other related keywords by including the keywords in the title and ALT-tags. Strong internal links and exterior links, especially from sites with some measure of authority are critical to ranking on the first page of the SERPs.
Ranking high in search engines is meaningless if it is for a keyword that few people are interested in. And it can be difficult to rank for popular keywords, so many sites build traffic by going after long-tail keywords that collectively can result in more visits.

There are tools that help you find popular keywords and determine how many times a particular keyword is searched per month and how many other sites are trying to rank for it.
Don't guess at your keywords. RESEARCH them!
Dominating for keywords nobody is using is a huge waste of time.
Successful bloggers also have networks! You'll get more traffic and more inbound links the more your content is shared. That could and should be everywhere! Social media, blogs linking to your post, comments in forums and on blogs that have links back to your site and especially your long-form or pillar posts, all help boost your great content.
If you're publish good content on a regular basis, while steadily acquiring backlinks, you're taking all the right steps to maintain a solid ranking.
It takes some effort to create content that ranks on the first page of Google. Well worth the effort!

Share with us how to rank number one on Google! Please share with us in the comments below.